CHARLES SPURGEON Y SUS TRES CONCEPCIONES DOCTRINAL ESENCIALES:
CRISTO, LA SOBERANÍA DIVINA Y LAS SAGRADAS ESCRITURAS
Resumo
Este artículo biográfico breve sobre Charles Spurgeon en esencia demuestea que tal príncipe de la predicación enfatizó tres doctrinas como pilares de su púlpito, a saber: Cristo, las Escrituras y la soberanía divina absoluta; con un corolario, es decir, su doctrina y práctica de la oración. Y que en cuanto a su práxis, el colosal predicador fue un bautista confeso, ortodoxo y de ética puritana, además que evangélico en su procura y método. Tales distintivos fueron esencialmente los responsables de la utilidad inusitada de tal santo ministro de Cristo.
Palabras-claves: Cristo. Predicar. Evangelio. Doctrina. Escritura. Biblia. Gracia. Oración. Bautista.
CHARLES SPURGEON AND HIS THREE ESSENTIAL DOCTRINAL CONCEPTIONS: CHRIST, THE DIVINE SOVEREIGNTY, AND THE HOLY SCRIPTURES
ABSTRACT: This short biographical article on Charles Spurgeon essentially demonstrates that such a 'prince' of preaching emphasized three doctrines as pillars of his pulpit, namely Christ, the Scriptures, and absolute divine sovereignty;with a corollary, that is, his doctrine and practice on prayer. And that as for his praxis, the colossal preacher was a confessed Baptist, Orthodox and of Puritan ethics, as well as Evangelical in his pursuit and method.  Such insignia were essentially responsible for the unusual utility of such a holy minister of Christ.
Keywords: Christ. To preach. Gospel. Doctrine. Scripture. Bible. Grace. Prayer. Baptist.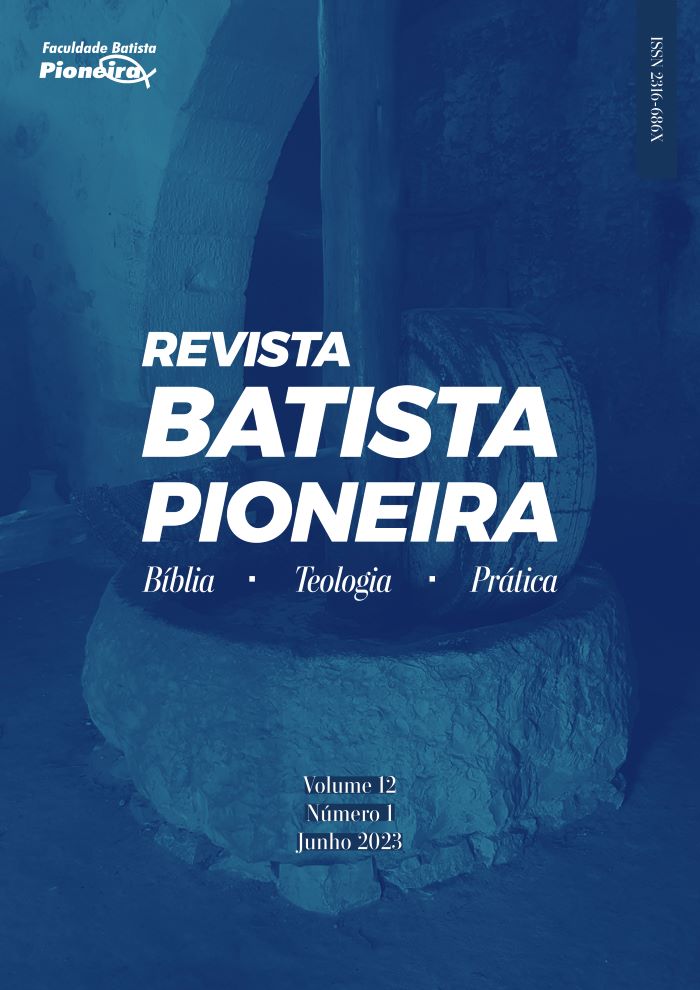 Downloads
Licença
Copyright (c) 2023 Juan Carlos
Este trabalho está licenciado sob uma licença Creative Commons Attribution-NonCommercial-NoDerivatives 4.0 International License.
Estou ciente de que, ao submeter voluntariamente meu trabalho ao corpo editorial da Revista Batista Pioneira editada pela Faculdade Batista Pioneira, autorizo a mesma a publicar o respectivo texto sob a licença Creative Commons. Permaneço como titular dos direitos autorais comprometendo-me a não submeter o mesmo texto a qualquer outro periódico no prazo de, pelo menos, três anos a partir da data de publicação.